Today we are going to talk about the history of the Jordan logo, the Nike-created brand of NBA legend Michael Jordan.
Can a player become a product? And if so, when can a player become a product? There are hundreds of thousands of players in the world and in different sports. However, only a few become legends, and their names become idols.
The number of athletes who become products is singularly smaller. For a player to become a product, he or she must exhibit what I have called the exceptional T's. This involves talent, training, tenacity and triumph over any obstacle. Yes, this is how a player becomes an iconic brand.
Michael Jordan is one such athlete who has gone from a basketball player to a brand celebrated around the world. The skilled athlete has inscribed his name in the history books, and his fame has earned him a unique emblem. Jumpman is the official name of his brand.
Jumpman is one of the most iconic brands worldwide, specifically in the athletic footwear industry. It represents Michael Jordan's drive, dream and achievements. In fact, the logo represents an abstract image of the athlete in a single jump.
With his legs apart and the ball in his left hand in flight, the emblem captures Jordan in a position to dunk the ball into the basketball hoop. Today, the Jumpman logo can be seen on all of the brand's products.
Michael Jordan's impact and legacy
Greatness compels people to call him names they believe reflect his ability. Jordan's many fans couldn't help but praise him with iconic nicknames. His stellar performances on the court earned him names. Call him Mike or MJ, and you're referring to a genius.
On February 17, 1963, Michael Jeffrey Jordan was born. In Brooklyn, New York, James Jordan and Deloris Jordan welcomed a son. Larry, Deloris, Roslyn and James Junior are his siblings. His mother was a bank teller and writer, while his father was an equipment manager.
He attended Emsley A. Laney High School in Wilmington, North Carolina. At this stage of her life, she showed a passion for sports: basketball, baseball and soccer. His father contributed to his interest in sports. He built a basketball in the backyard of their home and also taught him how to play baseball. Sadly, two teenagers killed the father in the summer of 1993.
Jordan made a big impact on Laney's junior varsity team. On the team, he recorded several 40-pointers. As a senior, MJ played in the McDonald's All-American Game in 1981 and scored 30 points. That same year, he earned a basketball scholarship to study at the University of North Carolina. In 1986, he graduated with a degree in geography.
In 1984, Jordan began his professional career when the Chicago Bulls drafted him. He was the third pick behind Hakeem Olajuwon (Houston Rockets) and Sam Bowie (Portland Trail Blazers). Such skilled players as John Stockton and Charles Barkley were part of the draft.
He made his rookie season count. Shooting 51.5%, he scored 28.2 points per game for the Chicago Bulls. His contribution helped the team reach the playoffs. They finished with a 38-44 record. Eventually, he won the NBA Rookie of the Year Award and was nominated for the All-Star Game.
Michael Jordan was unlucky in his second season. After only three games, he broke his foot. This caused him to miss 64 games. However, his team made the playoffs with a 30-52 record. It was the worst record in NBA history.
He recovered and came back even more powerful. He set an unbroken record in a playoff game with 63 points in Game 2 against the Boston Celtics. As far as records go, most people considered that 1985-86 Celtics team to be one of the best in NBA history.
In the 1986-87 season, he had one of his best games, averaging 37.1 points on 48.2 percent shooting. This translated into over 3,000 points, which earned him bragging rights after Wilt Chamberlain for such incredible points. He also recorded 200 steals and 100 blocks, the first in NBA history.
His contributions were instrumental in the Bulls' rise. By the late 1980s, the squad had developed into a winning team. Jordan won his first MVP award during the 1987-88 season. He ended up recording 35.0 points per game on 53.5 percent shooting. It was the beginning of more laurels.
Mike, the black Jesus, won his second MVP in the 1990-91 season. In it, he averaged 31.5 points on 53.9% shooting. For the first time in 16 years, the Bulls finished first in their division with 61 regular season wins.
They advanced to the Finals of the NBAfinals, where they defeated the Lakers four games to one. The Lakers team featured legendary players such as Magic Johnson and James Worthy. The Bulls won the trophy, and Jordan won the NBA Finals Most Valuable Player award for the first time.
The Bulls found their rhythm in the league, and Jordan became a household name. He helped the U.S. Olympic basketball team win gold in 1984 and 1992. He also won the NBA championship six times and was voted NBA Finals MVP six times.
These are just a few of his magnificent contributions to the game of basketball. He has retired three times: in 1993, in 1998 and finally in 2003. His 19-year professional career has been colorful, earning him names like Black Cat, His Airness, GOAT and Air Jordan.
Who designed Michael Jordan's logo?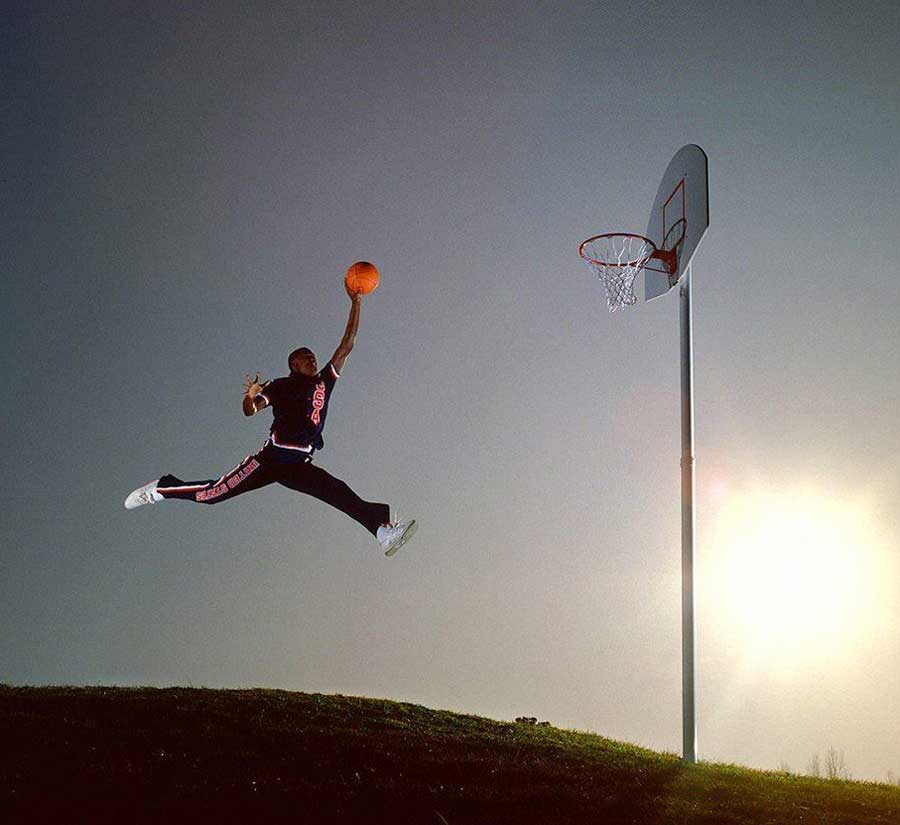 Nike Inc. owns the patent right to the Jumpman logo design. Nike is an American sportswear company that designs, develops, manufactures and markets footwear, apparel, equipment and accessories worldwide. It is headquartered in Oregon, in Portland.
Before the Jumpman emblem arrived on the sports scene in 1988, Michael Jordan had struck a similar pose in a Life magazine photo. The image shows the talented athlete wearing an Olympic jumpsuit and rising toward the basketball hoop. He was performing a ballet jumping motion.
Peter Moore, head of design at Nike Inc, discovered this stylized image of Michael Jordan. Due to copyright issues, he and his design team could not use it. So they tried to recreate other versions inspired by it. With Jordan in his Bulls colors, they experimented.
When Peter Moore left Nike, Tinker Hatfield replaced him. In 1988, the Jumpman logo was born. With some sketches left behind by Peter Moore, Tinker created the Jordan signature Jumpman emblem. It was cute and quickly became more recognizable than the previous ones.
The Air Jordan III was the first Jordan sneaker with the Jumpman brand logo. It replaced the original Air Jordan I and II wing logo. Everyone, including Jordan, was impressed with the iconic designs of both the shoes and the logo.
Nike has had several partnerships with elite athletes around the world. From basketball to tennis, you'll find Nike endorsements with top athletes. Carl Lewis, Ronaldinho and Tiger Woods are some examples. Others are Neymar Junior, James LeBron and Cristiano Ronaldo.
Why did the Jordan logo work?
It is a fact that first impressions count. The Michael Jordan logo gives off love at first sight. Mr. Tinker and his design team went to great lengths to make the mark effective. Let's look together at the factors that made the Jumpman so iconic and timeless:
The logo design is simple:
There are no intricate graphic elements, other than the player in flight. It is so clean that even a child can identify it without hesitation. This is a powerful feature that separates the world's best logo designs from the rest. The Jumpman logo, with its modest personality, is appealing.
The logo design is consistent:
The more brands expose you to a particular ad over time, the more it sticks with you. It's a fact about advertising. The brand, since it came into existence some three decades ago, has changed little. It has remained consistent with its message and has earned the loyalty of its appreciative followers.
Logo design is versatile:
Well-crafted logos are malleable. This means that they can take different forms without deviating from their main objectives. The Jumpman logo can adopt any color and remain highly recognizable. It can also scale across all marketing mediums to connect with fans.
The logo design is memorable:
The minimalist look of Jordan's emblem makes it hard to forget. Whether it appears in red, white or black, the millions of people who see the Jumpman can't miss it. The stylized stance of the abstract image stands out among the noise, making it timeless.
The personality behind the logo:
A winning personality attracts people effortlessly. Yes, people in all aspects of life want to associate with winners. You'll find it in business, sports, music, politics, and almost every industry. Michael Jordan, with his style of play, was a winner with an infectious charisma. This has also contributed greatly to the success of the Jordan logo and its range of products.
Graphic elements of the Jordan logo
can a graphic artist design a brand without the design elements? The answer is a resounding no. Visual elements are the soul of every creative work in existence. Therefore, their absence means the end of all objects.
So, Mr. Tinker focused on a few vital elements when crafting the Michael Jordan brand. He used the abstract image of Michael Jordan in an iconic position, a color palette and no typography.
The shape and symbolism of the Michael Jordan logo
A circle:
Michael Jordan's famous Jumpman logo symbol features a round object. Actually, the circle represents a basket. You can also relate the rounded shape to the hoop that basketball players aim at to score. A circular object also captures a sense of unity and community. We can relate it to spectators, players and game officials.
Jumpman:
Jordan's iconic logo got its nickname, Jumpman, from the jumping man pose. It is the most captivating design element of the emblems. Clearly, it shows Michael Jordan as a player in action. The stylized pose has appeared twice. In the first, he appeared in a U.S. Olympic suit before the 1984 Olympics. And in 1985, he posed for a similar photo in a Chicago Bulls kit and Nike sneakers.
Straight legs:
The two straight legs offered balance to the man in flight. When turned upside down, they mimic the letter V. As the 22nd letter of the English alphabet, it symbolizes Michael Jordan's career progression. As a player, Jordan displayed many traits related to the letter V. He was valuable, versatile and always aimed for victory. He was also a visionary athlete who exercises vigilance and vigor.
Michael Jordan Logo Colors
A black color:
The praised Jordan logo has black as one of its shades. It can appear as a background color or in the image itself. This depends on the medium the company wants to use to promote its range of products. When there is no light, black takes place.
Black has both negative and positive effects on people's moods. Power, authority and elegance are some cheerful shades of black. Conversely, it can represent fear, death and evil. However, the Jumpman logo used this shade to convey leadership, formality and strength.
A white color:
The white is the next neutral color that can be seen in the Jordan brand. Like black, it can beautify both the image and the background. Both are powerful and contrasting colors. The snow color represents purity, humility and simplicity.
Brands can also use it to convey safety, cleanliness and loyalty. To a large extent, the color white affects our minds in a positive way. It promotes freshness, clarity and renewed strength. But too much of this color in the eye can blur vision.
The color red:
Red is a primary color that also inked Jordan's brand. It is everywhere. It is the color of blood, ripe tomatoes, apples and strawberries. Branding experts use red to convey a feeling of love, passion and desire. They also use it to communicate courage, vigor and joy.
These are the positive emotions of red. However, the color can negatively affect moods. These include anger, rage and danger. Others are anger, stress and lust. Red is an intense color to quickly grab people's attention.