If you are looking for the Sons of Anarchy font is because you are probably a big fan of the series starring Jax Teller and his biker gang and you would like to give that biker and rocker style to your designs
You are in luck, in this article we are going to show you what is the typography used in the Sons of Anarchy series
The Sons of Anarchy Font. What is the font used in the Sons of Anarchy series?
If we are design lovers and we like a series, movie or video game, we immediately look for the typography of that series or movie and with Sons of Anarchy it was not going to be less
The font used is Carnivalee Freakshow, created by Christopher Hansen.
Download the font of Sons of Anarchy
You can download the Sons of Anarchy font completely free so you can use it in any of your projects, whether personal or commercial. Below we tell you where you can use this font
is the Sons of Anarchy font free?
This font is 100% free, this means that you can use it in all your projects, whether personal or even commercial and advertising purposes, so if you work in graphic design you can use this font in the work of your clients without having to pay any license fee
Some commercial products in which you can use the Sons of Anarchy font are:
T-shirts
Caps
Stickers
Posters
Logos and illustrations
Flyers
Business cards
Folders
what is Sons of Anarchy?
Sons of Anarchy is an American television series created by Kurt Sutter about the life of an outlaw motorcycle club operating in Charming, a fictional town in California's Central Valley
The series centers on protagonist Jackson "Jax" Teller, initially the club's vice president, who begins to question the club and himself
Sons of Anarchy premiered on September 3, 2008 on the FX cable television network. The third season of the series drew an average of 4.9 million viewers per week, making it FX's highest-rated series, beating out other FX hits such as The Shield, Nip/Tuck and Rescue Me
The Season 4 and 5 premieres were the two highest-rated broadcasts in FX's history. Season 6 aired from September 10, 2013 through December 10, 2013. The seventh and final season of the series premiered on September 9, 2014
The series finale premiered on December 9, 2014. In November 2013, Sutter indicated that he was in talks with FX to make a Sons of Anarchy prequel set in the 1960s. In February 2015, he said he would not work on the prequel, likely to be titled The First 9, before 2017.
The Sons of Anarchy Club, SAMCRO or Sam Crow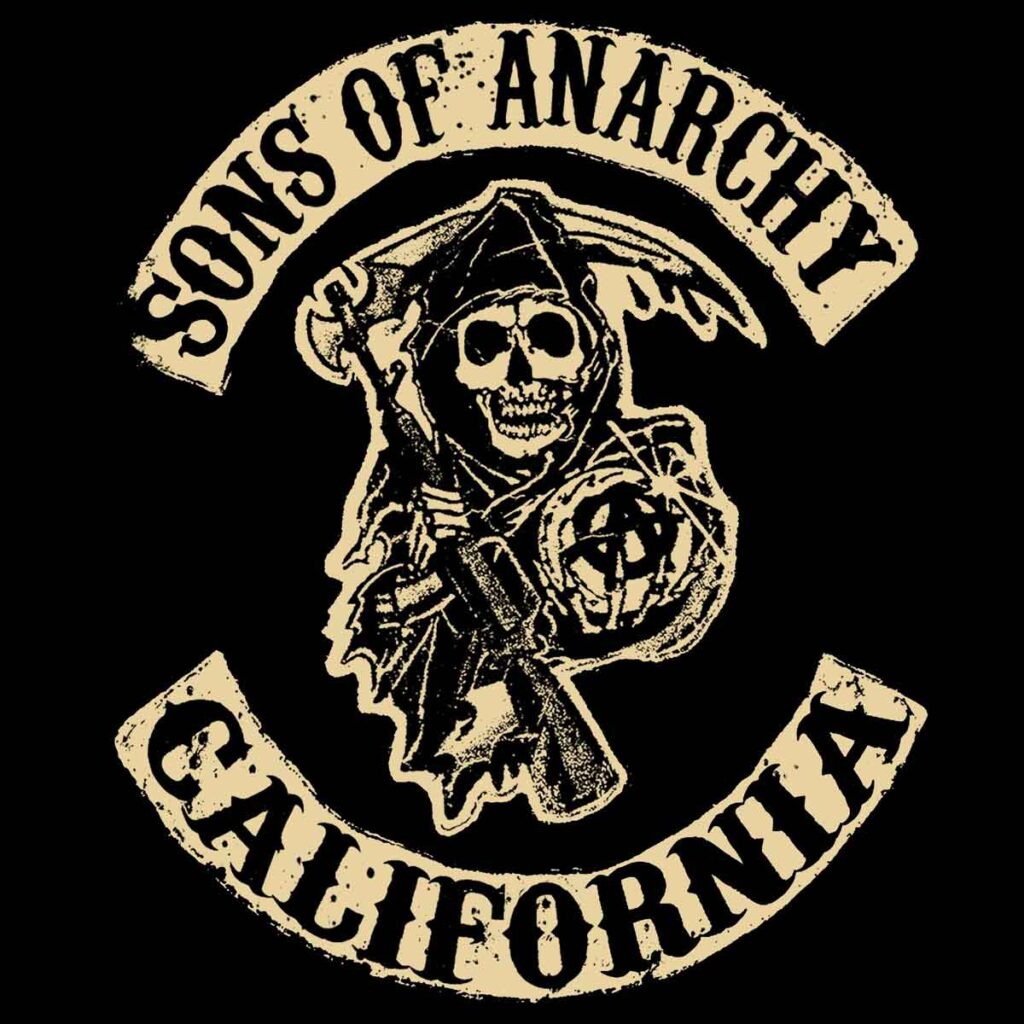 The Sons of Anarchy Motorcycle Club, also known as Sam Crow, is an outlaw motorcycle club in the original FX series Sons of Anarchy and its spinoff Mayans MC
The club was formed in Charming, California, in 1967 by two Vietnam War veterans, John Teller and Piney Winston, as well as other members comprising the First 9.
Six of the original nine members were war veterans. Their logo is a Grim Reaper wielding an M-16 rifle with a scythe and holding a crystal ball with the symbol for Anarchy. The Sons' mottos are "Fear the Reaper" and "Ride Free or Die."
Their colors are blue and white. The club has 48 chapters worldwide. In North America, they are in Alaska, Arizona, California, Florida, Illinois, New England, New Jersey, New Mexico, New York, Nevada, Oregon, Pennsylvania, Texas, Utah, Washington and Wyoming in the United States, and Alberta and Manitoba in Canada. There are also several chapters in Great Britain, Germany, Ireland, the Netherlands and Scandinavia.
SAMCRO History
The club was formed in 1967 by John Teller and Piney Winston after their return from service as infantrymen during the Vietnam War. The first chapter was founded in Charming, California, and originally had only nine members, the other seven being Wally Grazer, Thomas Whitney, Chico Vellenueva, Lenny "El Chulo" Janowitz, Clarence "Clay" Morrow, Keith McGee and Otto "L'il Killer" Moran
Six of them were war veterans. Teller served as president until his death in 1993, when Clay Morrow took over. Under Morrow's tenure, the club began dealing guns and began to evolve along the lines of the stereotypical one percent biker gang
However, the club was originally formed as a sort of social rebellion of men who simply wanted freedom and no longer wanted to live by society's rules. They were also trying to protect the people of Charming from outside gangs and drug dealers, rather than exploit them.
In 1991, the Mayans attempted to expand their drug trafficking operations into the San Joaquin Valley, which provoked a war with SAMCRO, which retaliated by defending the territory under its control. This war lasted until 1993, when the Maya finally withdrew after suffering heavy casualties
In 2008, Water and Power Board employees working near the highway unearthed three skeletons, two of which were Maya killed by Tig in 1992 when they had attempted to invade Lodi. The third skeleton was that of Lowell Harland, Sr. a mechanic for Teller-Morrow Automotive, who was killed by Clay Morrow for being a "drug rat."
To prevent the bodies from being identified, Trager, Morrow and Jax had to break into the local morgue and steal the bones. However, the bodies had already been identified, but no one was convicted of the murders.
what activities does the Sons of Anarchy club engage in?
The Sons of Anarchy engage in a number of legal and illegal activities and businesses to make money, such as arms trafficking and kidnapping. They import illegal Russian-made weapons, such as AK47s, from Dungloe, Ireland, through their connection to the Authentic IRA
These weapons arrive on ships to Oakland in containers of oil. They then sell these weapons to other Northern California gangs, such as the One-Niners and, eventually, the Mayans. They have also sold to terrorist groups and militias. It is mentioned that the Russian Mafia also sells weapons in the area, which means they are a potential commercial adversary.
Unser Shipping, a local trucking company, routinely hires the Sons to protect their shipments on their way to Mexico and elsewhere. However, the SOA is known to occasionally hijack these trucks. It has also been mentioned that the Sons have been involved in robberies and hijackings of other businesses, with the help of various chapters.
The Sons of Anarchy also own, or partially own, several legal businesses. Teller-Morrow Automotive is owned by the club and is also where most of the Charming chapter works during the day. After helping the Cara Cara pornographic film studio, the SOA inherited part of the company and now receives part of its profits. Lending is another of the Sons' businesses, as they lend money to area businesses.