Fonts come in all shapes and sizes, but when it comes to signage, there are best fonts for posters that can help make bold statements and attract attention. In this post, we present a few types of the best fonts for posters that you can use to create winning signs or posters.
It's hard to generalise about poster design. There are too many types of posters that require different design styles. For example, a poster you design for a business conference and a poster you make for a summer beach party will require completely different designs, including different colours, shapes, designs and, most importantly, different lettering for posters.
In making this collection of fonts, we wanted to include both formal and informal fonts that you can use to design titles, headings and text for various types of posters.
These are some of the best fonts for posters that the designers use for printing posters in Colorprinter.
You can also use the best fonts for posters for your instagram designs, or take a look at the best fonts for instagram.
We also include a small set of tips to help you make the best decision when choosing the perfect poster fonts for your project.
If the design of the poster is of some theme maybe you can see for example our wedding typographies or Harry Potter fonts.
---
01 Blephyca – Lettering for creative brush posters
If you are working on a creative poster design, this is one of the best fonts fot posters typefaces that will help you create a unique title for your project. It comes with a soft brush font design that features both uppercase and lowercase letters. The font is perfect for posters, brochures and website headers as well.
02 Morish – Handmade poster font
Serif fonts are now very popular in website header design as well as in print poster designs. This is a creative display font that you can use to create titles for your professional projects. The font features a design inspired by vintage designs from the 1970s.
03 Stanley – A free source
Sometimes it's important to look for free or free-to-use best fonts fot posters that you can use in your personal and commercial projects. It comes with a unique typeface design consisting of shapes and figures. In addition to posters, you can use the font to design many other digital and print designs.
04 Portway – Font for military poster
Portway is a modern poster typeface that features a typeface design inspired by the typography used in military designs. This typeface works well for designing bold poster titles, as well as t-shirt and logo designs.
05 Monstarr – Handmade playful poster font
Best fonts for posters for children? Then this font becomes ideal for your projects. This playful and adorable font will definitely catch the attention of children. It's perfect for designing flyers, book covers, and banners as well.
06 Burtons – Poster font
Burton is a stylish typeface that comes with mixed elements of retro and modern design. The bold look of the typeface will allow you to create eye-catching headlines and titles for posters. It comes with many alternative characters, symbols and ligatures as well.
07 Rhinos Rocks – Brush Font
These poster lettering fonts have a bold and unique look that makes it ideal for designing posters for movies, rock music events and many others. It features a hand-brushed design. The font is available in several versions, including the "all-caps" and "swashes" typeface.
08 Girock – The handwriting of a rare poster
Girock is a creative poster font with a fun and quirky design. This font can be used to design all kinds of creative posters, brochures, book covers and much more.
09 Bacoter – Free brush lettering
This modern free font comes with a brushstroke design that gives it a unique look and feel. The typeface has a handcrafted design and can be used freely with your personal projects.
10 Morton – Poster Font
Morton is a modern poster font that is best suited for designing posters for formal events, such as business conferences, networking events and exhibitions. The font has a professional design and comes in 9 different weights.
11 Helios – Futuristic font
Helios is a unique sans-serif font with a futuristic, space-themed design. It includes all capital letters, numbers and punctuation. The font is also available in rounded and regular versions. It is perfect for designing technology-related posters.
12 The Pinter – Vintage Poster Letters
The Painter is another vintage-themed poster font that you can use to design bold titles for posters. It features a design inspired by traditional poster lettering and brushes. The font includes a total of 420 characters.
13 Sayfull – Sans Serif Bold Font
Sayfull is a bold poster font with a quirky character design. You can use this font to design website headers, poster titles, banners and much more.
14 Crutsen – Lettering for billboards
This font comes with an elegant design that makes it the perfect choice for designing posters for business, branding and product promotions. It includes many stylistic alternative characters, ligatures and more.
15 Monofor – Signage font
Monofor is a creative font with an unusual design. You can use this font to make posters for fashion, clothing, travel and other brand-related events and promotions. It also includes alternative characters and multi-language support.
16 Zeky – Classic poster font
Zeky is a modern font with a classic design. It has an elegant formal design that will make your posters stand out from the crowd. This font is best suited for designing posters for fashion, clothing and luxury brand promotions.
17 COCO – Free Fashion Lyrics
COCO is a stylish free poster font with a design made specifically for luxury brands and agencies.
18 Portico Outline – Poster font
The outline version of the popular Portico font seems perfect for the design of technology posters and business events. According to its designer, and by the looks of the previews, the font looks great in neon colours.
19 Hennigar – Poster typeface
Hennigar is a neo-grotesque sans sans font that features a unique and formal design. You can use it to design posters for formal events, business conferences and more.
20 Snowy – Winter Floral of Color
Snowy is a unique typeface featuring a floral design best suited for winter-themed poster designs. The font has been created using a new font format known as OpenType-SVG. You will need Photoshop CC 2017 or Illustrator CC 2018 or better to use this font.
21 Andreas – Condensed Bold Poster Font
You can design elegant titles for posters or flyers using this bold poster font. It features a unique sans-serif character set with a condensed design. The font includes multilingual support and comes in TrueType and OpenType formats.
22 Chelsy – Fun and creative display font
Make your designs look more fun and entertaining with this quirky poster font. This font is perfect for all kinds of children's designs, as well as fun t-shirt and poster designs. Comes with multilingual support.
23 Vicenza – Elegant Serif Poster Font
This is a typeface for posters, banners, brochures and all kinds of other designs that works to promote luxury brands. The elegant look of the font gives it a certain classy vibe like no other font on our list. The font includes lots of glyphs and an italic version as well.
24 Huelva – Handwritten font
Huelva is a unique script font that you can use to add creative personality to your designs. The unusual font design even makes the font stand out. It includes both upper and lower case letters, as well as Webfont versions.
25 Obrazec – Free industrial poster font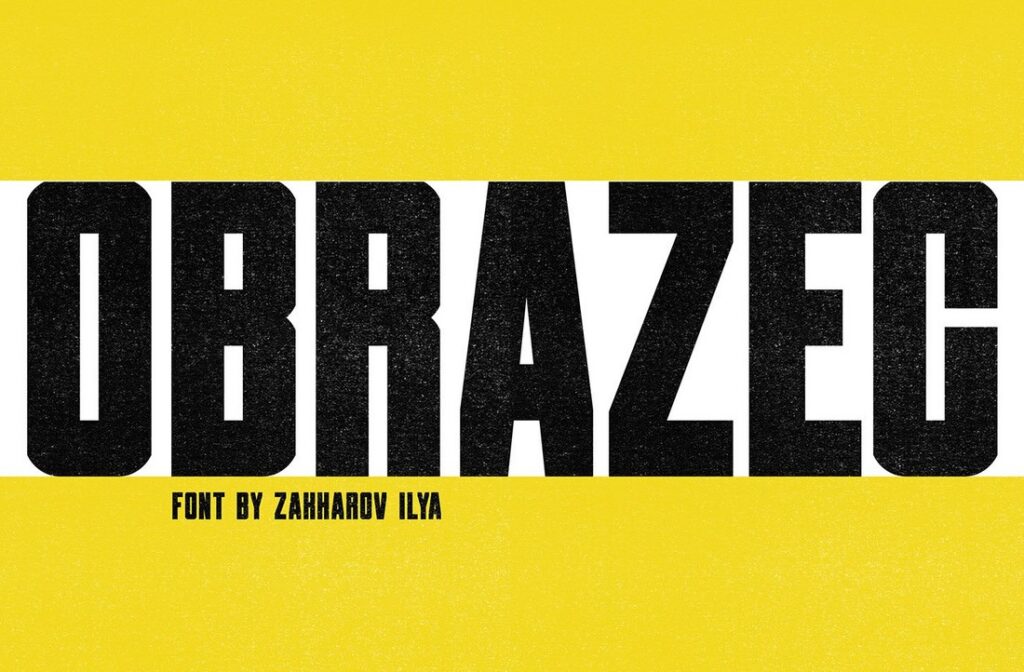 Obrazec is a free poster font that comes with a design inspired by industrial designs. It is an all caps typeface that is best suited for creating big and bold titles. You can use it for free with both personal and commercial projects.
26 Lemonade – Lettering posters
Lemonade is a creative font with a fresh design. This font will fit perfectly with your fun, creative and entertaining poster designs. It will also look great on vintage-themed posters. As a bonus, you'll also get 5 unique and editable vintage vector badges with this font.
27 Phenomena – Free Modern Fonts
Phenomena is a complete font family with 7 different weights that you can use to create both headings and paragraphs. The font also has a beautifully rounded character design.
28 Originals – Best fonts for Posters
Originals is a creative typeface with a fun and quirky design. The font is available in multiple versions with different designs. It is best suited for designing posters for school, children and entertainment events.
29 Galaxy – Free display font
This free creative font comes with a unique character design, like a template. It is best suited for designing titles for technology and entertainment, posters and banner designs.
30 Tomcat – Free poster lettering
If you're looking for uniquely handcrafted poster lettering, this creative font will help you design more fun titles for posters and banners, especially for child-related projects.
---
5 tips for choosing the best fonts for posters
Finding the right typeface for a poster can be quite difficult, as different types of design require different type styles. These quick tips will help you to make the right choice.
Make it big and bold
A fun part of using lettering for posters is that you can make great text. When creating your poster titles, website headers, banners, etc., you can use large fonts and bold weights. During these tests, you will also notice that not all fonts look good when used at large sizes.
Fortunately, all of the poster fonts on our list will look great regardless of the size you give them. Feel free to experiment with them.
Use themed fonts
Whether you're designing a poster for a music festival or for a luxury brand, you need to use the right fonts for your poster's theme.
Poster fonts come in various themes ranging from minimalist designs to retro styles, brushstroke designs and more. Choose themed fonts to make your designs look more creative. For example, a brush font is a great choice for designing titles for a rock music poster.
Choose the right pair of fonts
When we talk about fonts for posters, we usually only consider the title font, but let's not forget about the subtitles and body text. Only with the right combination of title font and paragraph font can you design an effective and impactful poster. Make sure you find a couple of fonts that match your project.
Consider Sans-Serif
Unless you are designing a poster for a corporate business event or a luxury brand, consider using sans-serif fonts for your poster design. Sans-serif fonts not only improve readability but also make the text and titles on your poster clearly visible from a distance.
Narrow fonts are better
Narrow, condensed fonts are often a great choice for designing a poster title. Especially when it's a long title, a narrow font offers a great opportunity to squeeze in more letters without cluttering the design. However, keep in mind not to choose a font with too narrow a spacing that will affect legibility.