There are free Google tools that are provided by Google for marketers, developers and other professionals. To help them get the best results in their respective fields.
If you thought there were some free Google tools, you are right. We are going to describe one by one 40 free Google tools that can help you with your personal and business projects. Google is much more than a search engine.
In this post we are going to talk about these tools that Google provides us for free that can help you to:
Increase your SEO positioning.
Create brand awareness.
Attract more people to your brand.
Track and manage your brand reputation
Develop projects, presentations and meetings.
In a particular way they also help us, for example for university work or study.
let's get started!
Main free Google tools in widespread use
1 – Google Drive
Google Drive is a cloud storage service, and like all cloud services, its main function is to take some load off your hard drive. Cloud storage works by uploading your files to its own remote servers – or the "cloud" – freeing up space on your computer. This leaves more space on your devices for more important things, like installing great apps and games.
Cloud services offer many more advantages than traditional storage. When your files are in the cloud, you can access them from wherever you are on any device with an Internet connection. In addition, you can share them with other people, which opens up new avenues for online collaboration.
If you have a Google account, you also have Google Drive. Simply signing up for an account gets you 15 GB of free storage, which puts their free plan near the top of the list for best free cloud storage.
To access Drive in the browser, go to drive.google.com and sign in with your account. The website's interface is fairly intuitive. Its design is clean, with plenty of white space to help you distinguish important functions.
Undoubtedly one of the best free tools from Google.
2 – Google Sheets
Google Sheets is a web-based application that allows users to create, update and modify spreadsheets and share data online in real time. It is one of Google's free tools. It is very similar to the well-known Excel, in my opinion it is better Google Sheets than Excel.
Google's product offers the typical spreadsheet features, such as the ability to add, delete and sort rows and columns. But unlike other spreadsheet programs, Google Sheets also allows several geographically dispersed users to collaborate on a spreadsheet at the same time and chat via a built-in instant messaging program. Users can upload spreadsheets directly from their computers or mobile devices. The application saves each change automatically, and users can view other users' changes as they are made.
Google Sheets is part of the free Google Docs Editors suite of web applications. This suite also includes Google Docs, Google Slides, Google Drawings, Google Forms, Google Sites and Google Keep. We will talk about these next.
3 – Google Docs
Google Docs is Google's browser-based word processor. You can create, edit and share documents online and access them from any computer with an Internet connection. There's even a mobile app for Android and iOS.
What sets Google Docs apart from its main desktop competitor, Microsoft Word, is its collaboration features. Google Docs was one of the first word processors to offer shared online document editing.
Google has made it incredibly easy to share documents across platforms and work on them in real time from a browser window. Your collaborators don't even need a Google account to view or edit the Google documents you share with them.
This is one of Google's free tools that are super useful for students and authors or editors. Although it is designed in such a way that it can be used by toddlers to professional writers.
To create a new Google Docs document, first go to docs.google.com and sign in with your Google account. Once you are on the Google Docs home page, you can create a new blank document or choose a template.
4 – Google Slides
Google Slides is a titan of presentation editing and creation. This online and offline platform (you have the advantage of being able to continue editing even without internet connection) is part of the Google Drive suite along with other services such as Google Docs or Google Sheets. Nowadays, it is very common to have a Google account, being the only thing you will need to edit in Google Slides, as it is one of Google's free tools!
It works similarly to editing in PowerPoint, only in the cloud. Google Slides offers different advantages such as being able to have your presentation in the Google cloud and have access to it from anywhere and from any device, that several users can modify the same presentation at the same time or that all changes are automatically saved thanks to the auto-save function. You can edit a previously designed template or create a new one from scratch.
Google Slides features include:
The ability to insert images, formatted text, animations, other media.
The use of a variety of templates.
The ability to edit transitions between slides.
Collaborative editing for sharing between computers, devices and other users.
5 – Google Drawings
Google Drawings is a very versatile tool that allows you to make all kinds of graphic designs and publications.
Google Drawings is packed with useful features that will allow you to enhance professional presentations, develop diagrams to explain things to people and even create cool graphics for your own website or infographics. At first glance we could say it's a "traditional" Paint, but it's really more than that.
Google Drawings is brimming with useful features that will allow you to enhance professional presentations, develop diagrams to explain things to people and even create cool graphics for your own website or infographics.
If you're a blogger, a teacher, or even if you use diagrams a lot in your professional work, Google Drawings is a lifesaver.
Google Drawings provides you with a whole palette of tools to create diagrams. These include arrows, lines, text boxes, various shapes and a library of royalty-free images.
The main features of Google Drawings are as follows:
Create and edit various charts, mind and concept maps, and other types of diagrams.
Resize, rotate, crop, crop, mask and move any imported object or image.
Collaborative editing for sharing between computers, devices and other users.
6 – Google Forms
Google Forms is a free online software that allows you to create surveys, questionnaires… It is part of Google's suite of web applications, which includes Google Docs, Google Sheets and Google Slides, among others. It is a versatile tool that can be used for a variety of applications, from collecting RSVPs for an event to creating a pop quiz.
You will need a Google Account to create a Google Form, but users who respond to your form do not need to have one.
Google Forms differs from other similar online programs in its library of customization options. When creating your new form, you will have the ability to select from a number of templates or design your own. If you opt to create a new template, consider adding your logo and photos, and watch as Google generates a matching set of custom colors.
It really is one of the free Google tools worth using. It's great for simple market research with questionnaires or for surveys to improve your brand.
7 – Google Sites
Incredible but true. Among the free Google tools there is also one for creating websites. Google Sites is Google's free and easy to use website creation tool.
Although the appearance of Google Sites is not so evolved, there are some advantages of using the service if you want to create a simple and functional site. For starters, it's completely free. You can create as many web pages as you want, as long as you stay within the 15 GB storage limit on your Google account.
Compared to website builders like Wix and Weebly, almost anyone can create a website with Google Sites. You don't need coding skills, design talent, or IT staff. In just a few minutes, you can have a website with several pages up and running.
8 – Google Keep
Google Keep is a free note-taking tool from Google. At first glance, it looks like a simple note-taking application. However, it has a lot of fun little features and a lot of extras.
Since it's made by Google, it automatically syncs with Google Drive so you can access it from any device you use your Google account on, whether it's a computer, your phone or your tablet
Google Keep Notes is one of Google's simplest and best free tools for taking notes on mobile. It is available on Android, iOS and through the web browser. The app has recently changed from being just Google Keep to Google Keep Notes
9 – Google Alerts
Google Alerts is a free tool from Google that allows you to monitor the web for specific keywords. You can create an alert on your company or keywords related to your niche to access the latest news, brand mentions and other interesting and relevant content.
This tool can help you keep an eye on the reputation of your business online, as it allows you to track brand mentions. You will receive updates every time someone mentions your brand, your products or your competitors online. You can also use it to monitor your competitors' online activities and analyze what's working and what's not.

Google Alerts can also help you learn more about your field and discover new content ideas. You can create alerts for keywords specific to your niche, such as SEO, influencer marketing, travel or anything else, to stay up to date.
10 – Blogger
Blogger is Google's free tool for creating blogs and promoting them without a budget. Blogger.com is a Google-owned platform where you can create blogs and share whatever you want
You can create a personal blog or a professional blog on a specific topic and you have the option to monetize it with Google Adsense. Blogger is one of the best free tools from Google.
You could choose Blogger as your platform to build a wonderful and professional blog or website. Blogger.com is directly linked to your Google account, so you just need to sign in with it. Just create a new blog with a given title and address. Your free blog address is created with a ".blogspot.com" extension and of course the site hosting is on Google for free.
11 – Google Calendar
Google Calendar is a tool where you can schedule meetings and events and get reminders about upcoming activities, so you always know what's next
Google Calendar is an efficient and optimized calendar application, free for all Gmail and Google Workspace users. Calendar is designed for teams, so it's easy to share your schedule with others and create multiple calendars that you and your team can use together.
You can use Google Calendar to share your and your team's work schedule, access your calendar offline, generate video conference links, and more.
12 – Gmail
Gmail is a free web-based email tool that provides users with 1GB of storage for messages and offers the ability to search for specific messages. The Gmail program also automatically organizes related messages successively in a thread.
Gmail has the best spam detection capability available, which means that almost all spam is filtered to the spam tray or trash garbage can, so you don't have to read it.
Gmail is an online service that can be accessed on a computer through the Internet browser and does not need to be installed. Gmail can also be opened through a browser on your smartphone or in the app, much more convenient.
Obviously Gmail is one of the most used free Google tools in the world.
13 – Google Classroom
It is ideal for distance learning, as well as for student participation in class. Google Classroom is very simple, making it easy to learn, use and share with other teachers, students and families.
It is packed with features and is constantly being updated with new integrations that provide access to a host of free-to-use tools designed to enhance teaching and learning.
While it is not an LMS (Learning Management System), like Blackboard, it is an ideal complement and, in many cases, also integrates. However, as Google Classroom becomes more powerful than ever, it is quickly representing a new way to teach and manage the online and distance classroom.
Teachers can use these tools to create interactive teaching materials that are not only paperless, but provide an engaging digital format for teaching content. Students can work together, in class or at home, to complete assignments and group projects.
14 – Google Hangouts
Google Hangouts is another one of Google's free tools that many are unaware of, but it's there. It is a unified communications service that allows members to initiate and participate in text, voice or video chats, either one-on-one or in a group
Hangouts is integrated into Google+ and Gmail, and there are Hangouts mobile apps available for iOS and Android devices.
Google Hangouts can also be a useful and cost-effective collaboration platform for enterprise customers. Hangouts also has an option called Google Hangouts on Air, which allows Google+ users to stream live video calls on YouTube. Hangouts on Air has gained traction as a free way for organizations to conduct webinars and talk shows online.
15 – YouTube
Well, this you should already know, YouTube is one of those great platforms that everyone knows about so you know it's a free tool from Google.
As you know, YouTube is a free video sharing website and the second search engine behind Google Search. YouTube is a video platform that is driven by two types of users: content creators and viewers.
Video creators: People who have channels and upload videos to those channels.
Video viewers: People who watch videos, interact with videos and subscribe to channels.
16 – Google News
Google News is a vertical search engine that Alphabet launched in 2002. Google search results, mostly news, appear very prominently as a box in organic search results in case of current events.

For a web page to appear as a snippet in Google News, it must meet several technical and quality criteria and be included in Google's publisher news program. If a page is included in Google News, it can generally benefit from significantly more traffic than conventionally indexed websites.
Important: Due to Spanish legislation, Google News has closed in Spain and Spanish publishers cannot include their content in this product.
17 – Google AI
Google AI is not a tool as such, it is Google's artificial intelligence (AI) research and development arm for its AI applications. You can use all the tools and apps that Google AI includes for free. For developers, datasets, companies and startups
They make tools and resources freely available so that anyone can use AI technology to solve problems. Whether you're just starting out or already an expert, you'll find the resources you need to make your next breakthrough
One of Google's many AI offshoots is its improved Google Assistant. With Assistant, Google's AI can process a user's commands, make phone calls silently in the background, and handle a natural conversation to request information or book appointments.
18 – Google Chrome
Google Chrome is a web browser that can be used on both Mac and PC, as well as mobile devices. One of Google's best free tools. It is the most used browser in the world.
Google Chrome allows its users to customize and control their user experience to a degree that most other browsers don't allow, and this is largely thanks to Chrome extensions.
A Chrome extension is a software tweaker that can block ads, translate languages, manage the browser theme, and much more
Chrome is based on the open source Chromium project, but Chrome itself is not open source.
Free Google Marketing Tools
19 – Google AdSense
Google Adsense is a free tool from Google to monetize your website through display ads. There are many ways to monetize your website traffic and there are many advertising programs that can help you make money today, but the most popular is Google AdSense.
To start monetizing your website you create an AdSense account, insert a small line of code on your website pages, and that's all you need to get started. Google will display targeted ads on your page that are relevant to your website's content or to users' previous searches, based on their proprietary algorithms.
Nowadays many blogs and informative websites use this Google tool to earn money to maintain and improve their content – there are sites earning up to $10,000 with Adsense!
20 – Google Ads Keyword Planner
The Google Keyword Planner is designed to help you search for keywords to use in your Search Network campaigns
It is a handy free tool from Google that allows you to discover keywords related to your business and see the estimated monthly searches they receive, as well as the costs to target them.
The Google Ads Keyword Planner is used to:
Discover new search keywords
View average monthly search figures for keywords
Help determine costs
Create new search ad campaigns
21 – Google Analytics
Google Analytics is one of Google's free tools that many entrepreneurs and business owners use to analyze their website traffic and behavior.
Google Analytics is a web analytics service that provides basic statistics and analytical tools for search engine optimization (SEO) and marketing purposes. The service is part of the Google Marketing Platform and is available free of charge to anyone with a Google account.
Small and medium-sized business websites often use Google Analytics to obtain and analyze various customer behavior analytics, which can be used to improve marketing campaigns, drive website traffic and better retain visitors.
Google Analytics acquires user data from each website visitor through the use of page tags.
22 – Google Search Console
Search Console is a free tool provided by Google to help webmasters monitor the health of their website in the indexer.
Search Console is a valuable resource for marketers because of all the tools it provides to make sure websites are performing well in Google search, as well as the tools it gives them to track their success and analyze their traffic. In addition to the information and statistical data it offers, Search Console also provides website administrators with tools to troubleshoot problems that might be hindering their good performance.
You can't use Google Search Console to directly make changes to your site, but you can use it to submit pages to Google's indexer, to verify that your site's URLs are in good shape, and to check for errors in your domain ownership.
23 – Google Trends
Google Trends is a very useful tool that allows you to see keyword search volumes so you can make smarter keyword choices. Google Trends also helps you explore the latest news, insights, stories, searches and more.
Key features:
This Google tool for marketers lets you understand how search trends vary over time in different regions and with each other.
Google Trends helps you make comparisons to see the variations between various search keywords.
It also allows you to see how keyword search volumes fluctuate over time.
24 – Google Business Profile (Google My business)
Your "business profile" is the term Google uses to refer to your business listing on Google. Business profiles appear on Google Maps and in local Google Search results.
In addition to creating a free business profile, you must separately create a free Google My Business account for that profile.
Creating a business profile is the same as adding a place to Google Maps, something anyone can do (even a stranger or an automatic listing generator). All Google requires is the business name, location and category. Once Google confirms that it is not a duplicate, it will create the business profile for that place
The business profile is open to consumers to leave reviews, add photos, ask questions and even respond to them. The business profile can also be populated with information that Google pulls from all over the web.
25 – Google Marketing Platform
Google Marketing Platform is a unified advertising and analytics platform that makes marketing faster and smarter. It also offers enterprise-level solutions for businesses that need a little more marketing muscle.
What makes Google Marketing Platform so powerful is the audience and conversion data collected by the pixels, called Floodlights, which can be shared across platforms. By being able to use the same tags to track all activity across all channels, measurement is much more accurate.
Key features:
Easy-to-use tools with powerful insights can help you analyze data in less time.
Gives you access to free and self-service solutions to help you grow your business at little additional cost.
26 – Digital Marketing Tools from Google
These digital marketing tools allow you to improve your brand marketing, analytics, digital experience and more.
The tools included are Google Trends, Consumer Barometer, Speed Scorecard, Display Benchmark, Test My Site, Market Finder and Google Surveys. You can access the collection of these free Google marketing tools to grow your business.
27 – Google for Startups
Google for Startups helps startups thrive in every corner of the world. It brings Google's best connections, products and practices to help startups build something great.
Google Cloud for Startups can help you build your startup with the tools and infrastructure that Google uses. The Google for Startups Campus offers you free mentoring and training with the help of the latest technology.
This Google tool for marketers helps them to easily promote their products and reach the maximum number of audiences.
28 – Google Business Solutions
Google Business Solutions provides you with a complete set of tools to help your business grow and scale. Get a personalized step-by-step guide to create or improve your online presence.
Helps you make money by placing ads on your website. And it helps you improve the loading speed of your website and improve the user experience. You can easily measure and know how your website, ads and apps are performing.
29 – G Suite Marketplace
G Suite Marketplace offers a wide range of quality business applications, e.g. CRM, task management and administration tools that add functionality and features to your native G Suite applications. It includes recommendations for G Suite, Google Drive, Gmail, Communications and Utilities.
G Suite Marketplace allows marketers and domain administrators to find third-party applications that integrate with G Suite. You can use it to install a wide range of quality applications that can add more features and functionality to your native Google Cloud Apps.
30 – Google Input Tools
Google Input Tools is an extension that allows you to create virtual keyboard layouts in multiple languages. You can easily work from anywhere in the world in different languages.
It remembers your corrections and keeps a dictionary for new and not-so-used words or names. And it makes your typing fluent with more than 80 languages and various input methods. You can write your messages in any language and style you want.
Google Input Tools is available on Google services, Chrome, Windows and Android devices.
31 – Google Charts (Charts)
Google Charts allows marketers and businesses to visualize data on their websites through attractive charts and tools. It is a powerful free marketing tool from Google that is widely used with JavaScript embedded web pages.
Google Charts offers a seamless way to visualize data on your website. From simple line charts to complex hierarchical tree maps, the chart gallery offers a large number of ready-to-use chart types.
32 – Google for Nonprofits
In general, Google for Nonprofits is a free program where Google gives away premium services (such as $10,000 per month in ad credits and customized G Suite accounts) at no cost. For qualifying organizations, Google for Nonprofits gives access to a collection of premium applications that might otherwise be too expensive for nonprofits.
Regardless of how much time you have to spend using the apps, they are worth applying for. Many of the products continue to amplify your nonprofit's work, even if you forget about them after the first launch.
You can engage with your supporters and reach a global audience through the YouTube for Nonprofits program. And you can track and share the impact your organization has had on people.
Free Google tools ideal for developers
33 – Search Think with Google
Search Think with Google is a free marketing tool from Google that developers can use to gain valuable consumer insights and stay on top of trends. The latest data and insights about your audience or industry can help keep you informed and inspired, and encourage you to create apps that your audience will love.
There is no greater barometer of consumer intent than search. Analyze the information and trends revealed by Google Search and learn how to get the most out of your search engine marketing efforts.
34 – Test My Site
As the name suggests, Test My Site is a free tool from Google to test your website. You enter your domain and Google Test My Site generates a report on the loading speed of your website on mobile. It gives you some recommendations for improvement and you can generate a full report with your Google account.
If your mobile site doesn't load quickly and correctly, you can lose half of your visitors. Google's "Test My Site" tool is a great tool for developers, as it helps you identify the loading time of your website on mobile devices.
35 – Structured Data Testing Tool
Google's Structured Data Testing Tool helps developers create, test and publish their structured data. With this Google tool for developers, you can create new structured data pages and fix existing ones.
This tool allows you to validate your code and see a sample of search results based on your data if your code is valid. You can make sure that Google can access all your web pages. They should not be blocked by robots, noindex or access requirements. You can use Structured Data Testing Tool to index your web pages in Google and identify errors through rich result status reports.
36 – Android Developers
Android Developers is a free tool that provides you with modern tools and resources to help you create crowd-pleasing experiences faster and easier on all Android devices.
Create Android apps for the billions of people using Android, the most widely used mobile system in the world.
This Google tool for developers will help you learn how to build an app, create layouts that adapt to different screens and save data to local databases.

Here you can find several basic sample codes to get your app development project off the ground. It also provides you with design and behavioral guidelines for building a high-quality application. And you can learn how to test the behavior and usability of your application using this tool before launching it.
37 – Firebase
Firebas is another one of Google's free tools for developers. It provides developers with a variety of tools and services to help them develop quality apps, grow their user base and make profits. It is built on Google's infrastructure.
Firebase includes things like analytics, authentication, databases, configuration, file storage, push messaging…. The services are hosted in the cloud and scale with little or no effort on the part of the developer.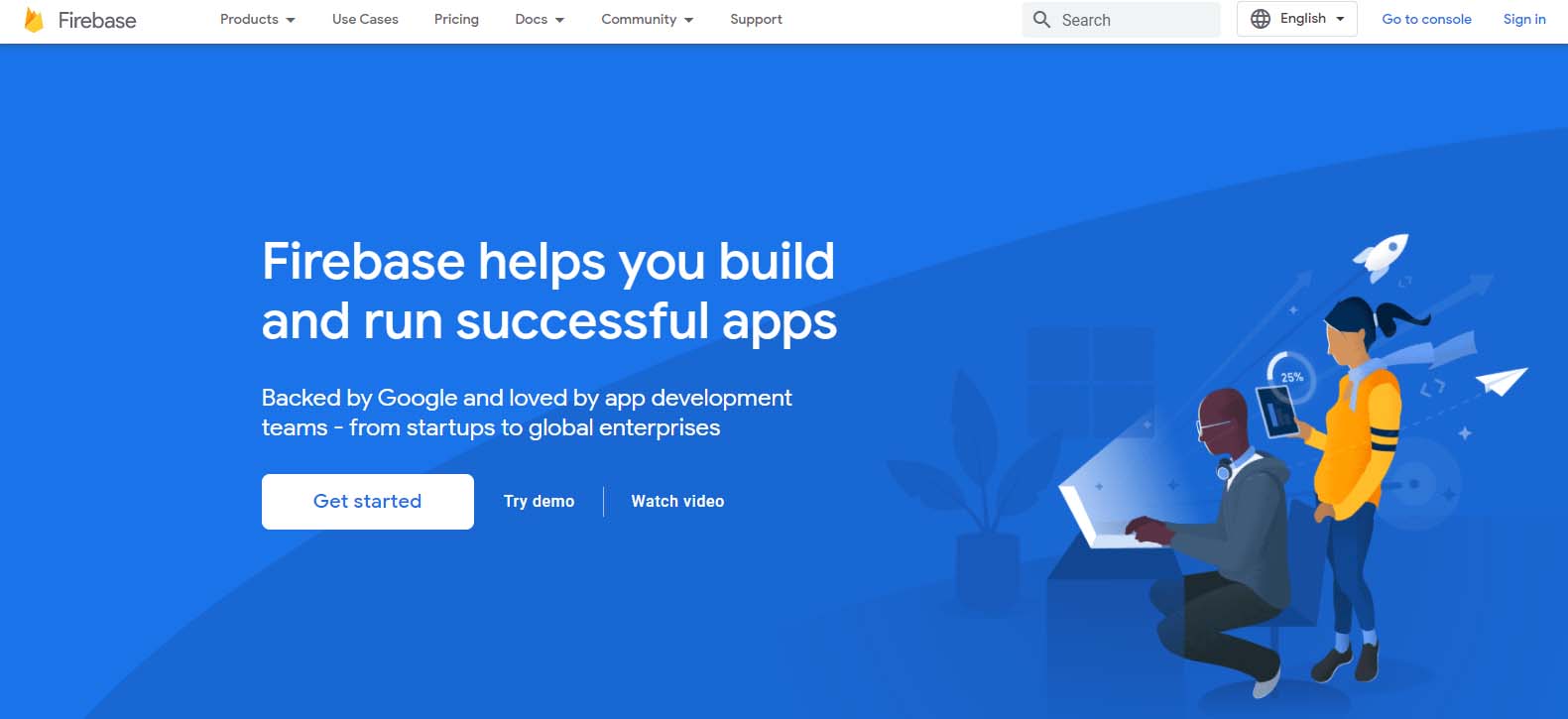 In short, Firebase is Google's free mobile app development platform that helps you build, improve and grow your app.
38 – Google PageSpeed Tools
PageSpeed Insights is a Google tool that evaluates the loading speed and behavior of a page on mobile and desktop devices and, based on the results, offers concrete suggestions for improvement.
This Google tool measures the loading time of a URL, calculates a score and analyzes the website for possible improvements. The good thing is that any URL can be entered and checked here.
Page speed does affect SEO. Page speed is a direct ranking factor, a fact that is even better known since Google's speed algorithm update. However, speed can also affect rankings indirectly by increasing bounce rate and reducing dwell time. At Google, users come first. This tool will help you with your website's SEO.
Free Google tool included in some devices
39 – Google Assistant
Google has spread Assistant far and wide, not just on its own hardware, but through partnerships with other companies that see Google Assistant on a huge range of devices, from fridges and headphones, to speakers and cars.
Google Assistant is Google's voice assistant. When it launched, Google Assistant was an extension of Google Now, designed to be personal and extend Google's existing "OK Google" voice controls.
Google Assistant offers voice commands, voice search and voice-activated device control, allowing you to complete a number of tasks after saying the trigger words "OK Google" or "Hey Google." It is designed to give you conversational interactions. Google Assistant supports text or voice input and will follow the conversation whichever input method you use.
The most important free Google tool of all
40 – Google (Search Engine)
Google is an Internet search engine. It uses a proprietary algorithm designed to retrieve and sort search results to provide the most relevant and reliable data sources possible.
Google's stated mission is to "organize the world's information and make it universally accessible and useful". It is the world's number one search engine and currently the most widely used search engine worldwide, with approximately 90% of people using Google as their primary search engine.