Although the Vlone logo is simple and minimalist, it is instantly recognizable and a branding success. The Vlone symbol has been a success mainly because a garment with the "Vlone" mark is much more expensive than one without it.
The Vlone logo is quite powerful and cryptic. The interesting thing about the logo and the clothing line is that it was largely inspired by an American rapper named SpaceGhostPurrp. This rapper had a soft spot for a Memphis hip hop group known as Three 6 Mafia, which is largely why the Vlone brand has a dark theme.
"Live Vlone Die Vlone T-shirt" is Vlone's tagline. It is a very interesting quip from the American psychological thriller Donnie Darko. In the movie, there is a scene where Donnie is chatting with a woman. She tells him something someone once said about life. She told Donnie that "every living thing dies alone." This bold dialogue was adopted by Vlone, who made it his unique catchphrase.
History of Vlone
Vlone launched on the streets of Harlem in 2011. It was created when a group of different multi-talented individuals (including rappers, musicians, singers and fashion designers) who shared the same musical and fashion ideology, started a street fashion brand called Vlone Clothing.
In a short time, Vlone Clothing began appearing on social media and quickly went viral after members of A$AP MOB began wearing the clothing themselves.
Who founded Vlone
In 2011, A$AP Bari, A$AP Rocky, A$AP K, Ian Connor and Playboi Carti embarked on a creative venture that led them to found Vlone.
Most of the founders are big names in the music world, except for Ian Connor, who is more popular as an influential street culture and fashion personality. A$AP K opted out of this venture, but the clothing line went ahead without him. Pay attention to Playboi Carti and A$AP Rocky, and you'll notice that they even sport the brand's tattoo, affirming their love for the brand and the art.
And what does Vlone stand for
Vlone is more than just a brand. It is a lifestyle that means "you live on your own and die on your own".
Vlone stands for "Alone", meaning alone in English. You live alone and die alone
Vlone is a lifestyle and a religion that people adapt to. The idea of Vlone represents the mind, thought, culture and lifestyle of its founders, "Live Vlone and die Vlone". Just like A$AP MOB, which is a collection of different individuals, the Vlone clothing line represents different lifestyles.
The inspiration behind Vlone is the free lifestyle of the streets of Harlem, where Rocky and Bari hail from. According to Bari, the brand takes Harlem freestyle fashion to other places.
What is the Vlone style
The extended "V" imprinted by A$AP Rocky and the A$AP Bari clothing line (caps, T-shirts and hoodies) has become the face of the brand. According to Bari, Vlone is neither high fashion nor streetwear. It's neighborhood fashion for the people of Harlem.
In 2014, A$AP Rocky released a music video that brought Vlone into the limelight. Until then, they had only released sweatshirts and T-shirts. They presented other streetwear in a pop-up store at Paris Fashion Week, influencing rappers and young people.
Thanks to Rocky's inspiration, demand for streetwear increased. Vlone also launched a pop-up store in Los Angeles featuring limited edition Vlone garments. The garments were soon snapped up by streetwear enthusiasts, including skateboarders.
Vlone's collaborations with Nike and Off-White
Eventually, Vlone went international and branched out into fashion design and pop-up stores when A$AP Bari embarked on a world tour to promote his Vlone project. Pop-up stores opened in Texas, New Orleans, Tokyo and many other places.
Vlone also partnered with Off-White and Nike in 2017. This was an important milestone for Vlone's success. The Vlone and Off-White collection includes orange and black Vlone suits, sweatpants and long-sleeved sweaters designed with the brand's signature black and orange color scheme.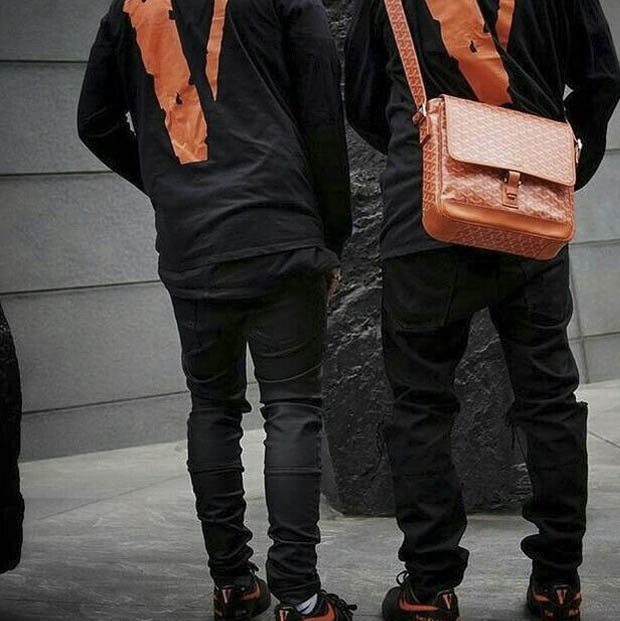 Having its origins in Harlem, New York, Vlone thought it prudent to design its own version of the Air Force 1 sneaker. The unveiling of the Nike and Vlone Air Force 1s took place in Harlem in February 2017, during one of New York Fashion Week's pop-up events.
This event happened right on the street where A$AP MOB grew up. Vlone presented several variations of the footwear. One was a high top sneaker in black and white, while another was a low top sneaker in black and orange. The inspiration came from the New York Knicks black and orange color scheme, which is the signature look of the Knicks sneaker. Both sneakers are embossed with Vlone's brand message.
At the same event, Vlone and Off-White unveiled bright camouflage, hoodies and sweatpants with the Vlone symbol visible and T-shirts or shirts with the word "FRIENDS" written in orange on the front. The Vlone and Off-White line was officially launched at the event.
Shortly after collaborating with Nike and Off-White, Vlone Clothing proceeded to do something else extremely iconic by paying homage to Tupac Shakur, the late legendary American hip hop artist.
In April 2017, A$AP Bari partnered with Bravado, the world's leading provider of branding, consumer and lifestyle services. Vlone launched a limited edition range honoring the life and legacy of Tupac Shakur. They timed it perfectly by launching the collection ahead of one of that summer's most anticipated movies, "All Eyez On Me."
To celebrate the launch of the line, Vlone, along with Bravado, offered customers the ultimate Tupac experience by opening a special pop-up store on New York's Lower East Side. From April 7-9, the Vlone Tupac pop-up store opened its doors to the public.
The collection featured 18 pieces created by A$AP Bari, Vlone's creative director. It consisted of a wide variety of graphic tees, hoodies, caps and bathrobes. The garments were available in three main colors: orange, black and red, and each featured Vlone's trademark "V" symbol across the entire length of the garment.
Vlone's main message
If you think you've heard all you need to hear about Vlone, you still have a lot more to discover. There's more to learn about the history of this brand
According to the members of A$AP MOB, the clothing line's aesthetic has a good and a bad side. Ian Connor opts for the good side. According to him, Vlone means being in a class of your own instead of standing alone.
Connor explains that the top is a very lonely place to be alone, ahead and above. In addition, Connor seeks out like-minded people and helps them hone their skills so they can stand on their own.
The A$AP Bari controversy
In 2017, A$AP Bari found himself in the middle of a major controversy. Vlone's ideology isolated him from the rest of A$AP MOB, leading him to self-destruct. In 2017, a video was leaked showing him beating a naked woman, leading mob to distance themselves from him.
Bari later alleged that he was not getting the attention and affection he felt he deserved. Nike learned of the alleged mishap and washed its hands of it. This significantly slowed down the expansion of the Vlone brand.
Many may wonder why Bari would do this – why would he do something that would tarnish his and the brand's name? History has shown that many of the great things that come from Harlem are often followed by controversy. In other words, "the soul of Harlem blossoms and then withers." At that point, Bari's own slogan, "All living creatives die alone," came true for him, metaphorically speaking.
Present and future of VLONE Clothing
Today, Vlone Clothing is still for sale online. Before songwriter and rapper Pop Smoke passed away, A$AP MOB partnered with him to launch his collection in February 2020.
The merchandise consists of t-shirts, a pair of balaclavas and hoodies, keeping things simple. Most of the merchandise features a simple "V" symbol, reflecting the direct message of the group's music. A$AP MOB continues to thrive in this way while keeping the memory of Pop Smoke alive.
Vlone Clothing is one of A$AP Mob's numerous spin-off projects. It is a streetwear line run by Jabari Shelton, better known as Young Lord or A$AP Bari. The street fashion brand is also co-owned by CLOT creator Edison Chen and A$AP Rocky.
Like many other street fashion brands that have emerged recently, Vlone operates primarily through its online store, delivering merchandise on short notice with little to no promotion. Despite this, the merchandise sells out quickly and is in high demand. Vlone also occasionally launches pop-up stores around the world, including cities such as New York, Los Angeles, Paris and Hong Kong.
Vlone introduced its first collection in 2014. In 2017, Vlone signed partnership deals with Nike and Off-White. In June of the same year, Vlone participated in his first runway show at Paris Fashion Week.
Vlone began collaborating with artists in 2020, releasing products for The Weeknd, Juice WRLD, NBA Youngboy and many other artists.
The history of the Vlone logo

The Vlone brand lives by the mantra "you live alone and die alone". Vlone was founded by three people, A$AP Rocky and A$AP Bari of hip hop group A$AP MOB, as well as Edison Chen of CLOT. According to Bari, Vlone is a lifestyle brand and belongs neither to high fashion nor streetwear. The brand's DNA is partly influenced by Harlem, a New York neighborhood where A$AP Mob was founded.
Symbol
Vlone's main logo includes the brand name in a very legible serif font. The proportions of the font are odd: the glyphs are unusually tall. The word is divided into two unequal parts by colors. Whatever the color of the word "lone," black or white, the "V" is rendered throughout in a different, brighter shade, such as blue, green or red.
The "Friends" symbol

You may have seen hoodies, T-shirts and other apparel with the term "Friends" on it and wondered what it means. A$AP Bari says the minus sign means zero, so the text simply means "No Friends" or "Zero Friends." Simply put, it's another way of saying "Vlone" or "solo".
In some variants, the minus sign is inside a circle, while other versions have no circle around the minus sign at all. The issue is that without the circle, the minus sign has often been ignored, making the intent of the logo unclear. When a circular frame surrounds the minus sign, it draws people's attention to the sign, making them think about what it might mean.
The "V" symbol
The Vlone logo has a third version. It can be seen on the back of clothing bearing the "Friends-" symbol. There is a large "V" in a strange font that mimics a message written on the wall. Sometimes another variant of the "V" symbol can be seen, in which the "V" is encircled.
Vlone design elements
Vlone Font: While the typeface of the standard Vlone logo is comparatively conventional, the "V" symbol has a unique look. The glyph appears to have been derived from the font known as Bundy Yellow.
Vlone Colors: The color of the Vlone emblem depends on the garment on which it is placed.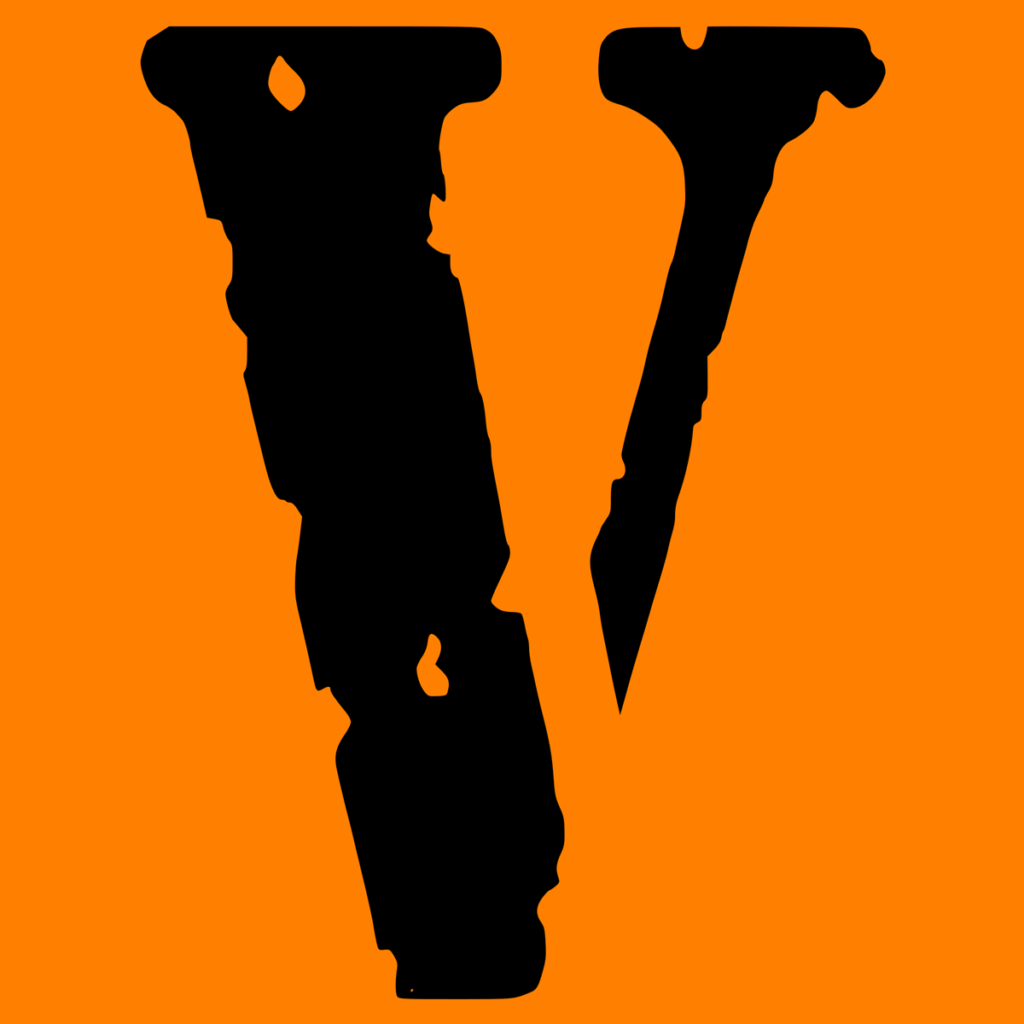 For example, if the garment is black, the inscription "Vlone" is usually white. If the garment is white, the "Vlone" inscription is black.
The "V" symbol may appear in different bright colors. The "V" and "Friends-" emblems are usually black or orange.